SCOPE OF SERVICE PT. MITRA ADIRA UTAMA
Our business has been evolving since we started in Lampung way back in 2008.
The movement of goods was a bit different then, but our people have always been trusted to get the job done.
Today we provide safe and efficient aviation services, for every customer, every time.
Brief Company History
Established PT. Mitra Adira Utama – 2005

Following with the developing and growthing of cargo export business in 2005, we establish a company namely PT. Mitra Adira Utama.

Warehouse Operator Lampung – 2008

In 2008, we started to be a warehouse operator in line 1 in Lampung Raden Inten II International Airport.

Expanded to Bandung – 2010

Until 2010 PT. Mitra Adira Utama expanded to Bandung Husein Sastranegara International Airport as warehouse operator.

Warehouse in Jakarta – 2013

At the beginning of 2013, we opened our warehouse in Jakarta Soekarno Hatta International Airport.

Collaborating with PT. Menzies Aviation Indonesia – 2017

In 2017, PT. Mitra Adira Utama was proud to announce that we started collaborating with PT. Menzies Aviation Indonesia as our Ground Services partner.

Running Warehouse Operator – 2020

Following the plan to move the capital city of Indonesia from Jakarta to Kalimantan, we decided to become larger and expanded to Samarinda Aji Pangeran Tumenggung Pranoto Airport. And we started running in 2020 as warehouse operator. By having the desire to develop and expand to all regions in Indonesia, hope we can advance the Indonesian economic through the acceleration of logistics delivery.
We proud to be a partner of several big companies:
Airline:
Federal Express Airline
My Indo Airline
Tri-MG Airline
Raya Airways
PSI Air 2007
Myanmar Airways International
Rossiya (Special Flight Squadron)
Malaysian Government
Aero Trans Cargo
Gullivair
Forwarder:
Federal Express
UPS
TNT
Anugerah Tangkas Transportindo
Kurhanz
FSI
Dhafin Jaya Mandiri
Indoprima
Chandra Adi Sentosa
Novena
Yuda Logistic
Suryanagita Nusantara Cargo
Indonesia Logistik Servis
Buana Mugi Jaya
Vision
To be a world class of warehousing and ground handling operator company with reference standards of efficiency and effectiveness in its services.
Mission
To provide reliable and efficient services for all airports in Indonesia.
Doing 3S (Safety, Service, and Secure) is our top priority.
About Us
We understand that every customer has different needs. There for we are committed to meet the customer needs and customize the services according to customer needs and expectations.
To provide the best service, our team already have experienced, trained and supported by HR, systems, warehousing facilities and infrastructure as needed by the international standards.
Our Awards
As one of the nation leading companies in Indonesia, we have been as awarded as a warehouse operator and ground services in Indonesia
Provision of Warehousing
PT Mitra Adira Utama (MAU) Pergudangan Banten Global Development (BGD) Terminal Cargo Area Soekarno Hatta International Airport, Tangerang, Banten, 19120, Indonesia has been assessed and certified as meeting the requirements of ISO 9001:2015 for the following activities Provision of Warehousing.
Ground Handling Partnership
IATA is proud is to certify that PT Adira Mitra Utama is recognized as a valued member of the International Air Transport Association (IATA) Ground Handling Partnership for 2020.
Collaborating with Menzies Aviation plc
Menzies Aviation plc has been proud to recognized of IATA that Menzies Aviation plc has been registered under the IATA Safety Audit for Ground Operations program (ISAGO), covering the following diciplines:
Organization and Management (ORM)
Load Control (LOD)
Passenger and Baggage Handling (PAB)
Aircraft Handling and Loading (HDL)
Aircraft Ground Movement (AGM)
Cargo and Mail Handling (CGM)
Our Locations
[display-map id='987700′]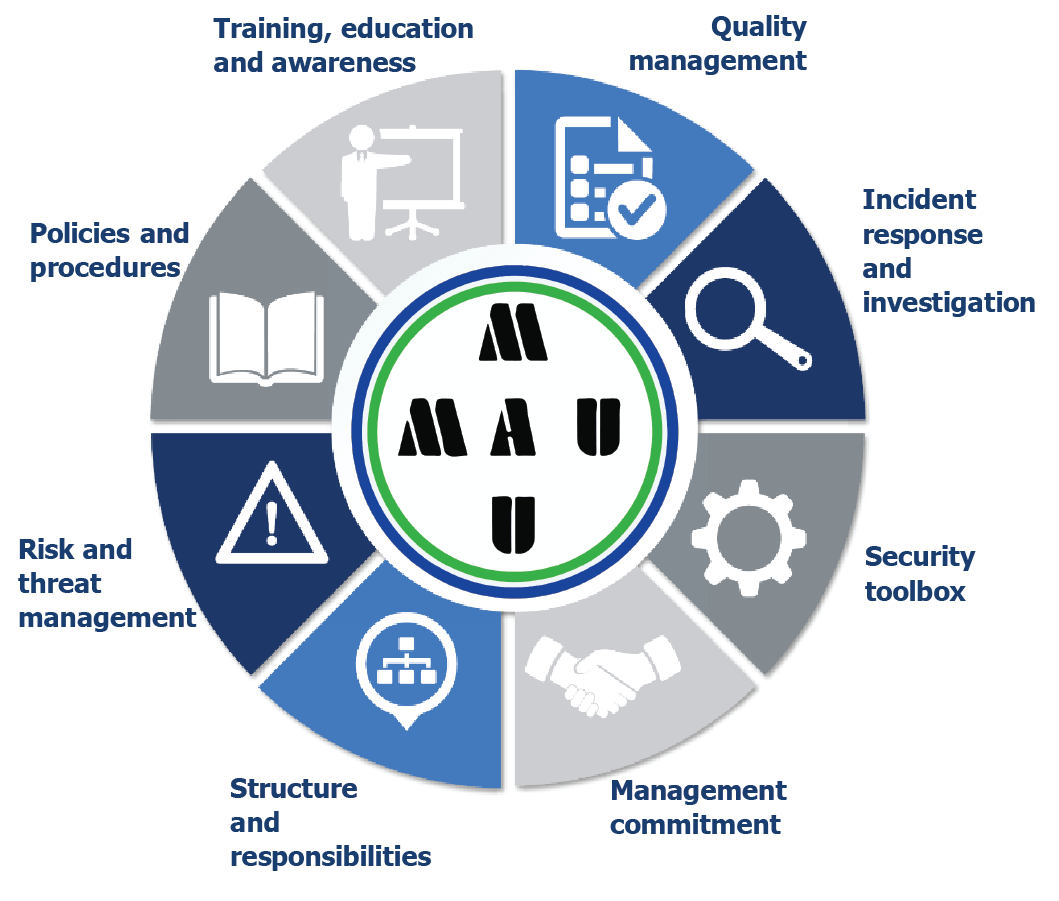 SAFETY & DEVELOPMENT
Our top priority
All management worldwide are committed to delivering industry leading safety and security standards
Education
Effective training informs and educates employees on types of risk and applying preventative measures
The Method
Our entire process library is available to all staff via "the Method" app on their mobile device – a unique tool in the industry
Security management system (SeMS)
The diagram opposite illustrates our structured approach to security management